In the early 1800's benefactors and members of various Denton County Masonic Lodges deeded to the Lewisville Masonic Lodge #201 AF and AM pieces of property to be used for Masonic burial purposes.  Over the years these pieces of Masonic burial properties with other donations and purchases of acres became known as the Old Hall Cemetery.
By 1844 a large family connection moved from Platt County, Missouri.  Among these settlers were brothers John and James Holford for whom the prairie, Holford Prairie Settlement, was named.  The Holford Prairie Hall was built in 1855, a two story building housing the first public meeting place for churches and school.  The second story housed the Lewisville Masonic Lodge #201 AF and AM.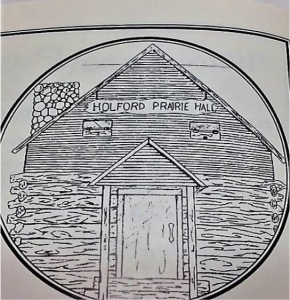 According to written history the oldest recorded grave at Old Hall Cemetery, which was originally known as the Crawford-Lusk Cemetery, was the infant daughter of Creswell and Margaret Lusk Hall, Martha Ruth "Mary" Hall, born February 11, 1855 and died August 1, 1857. Sixteen members of this family are recorded to have been buried in the Crawford-Lusk cemetery, inside the Old Iron Fence. The Iron Fence was put around the plot to protect the graves from cattle as they roamed the prairie.