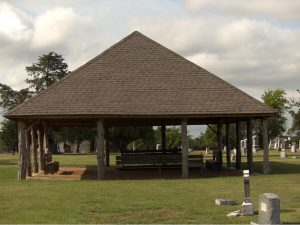 Decoration Day is held on the last weekend of May, in conjunction with Memorial Day. (Last Monday in May). This is the time graves of our loved ones are decorated.
On Memorial Day, our local VFW holds a memorial service at 10:00 AM to honor our Veterans.  Service is held under the Tabernacle, located at the North entrance of the Cemetery. ROTC students from one of our local High Schools present the flags and play taps.  Local Scouts come early and place flags on all marked Veterans graves.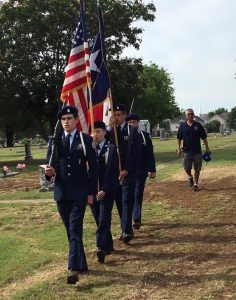 A Letter from Old Hall Cemetery Association, Inc. President and Board
The Cemetery is cleaned twice per year to maintain the beauty of the resting place of our loved ones. Information with dates is posted at both main entrances off of McGee Lane. Items that are not to be thrown away should be removed from graves.
The Cemetery is cleaned of all faded, out of season flowers, torn flags, or broken items left on graves causing a hazard when mowing of the grounds, as stated in the Rules and Regulations.